On top of the World: A closer look at Tiger's fantastic Firestone performances
Woods is an eight-time winner of the WGC-Bridgestone Invitational
July 30, 2018
By Cameron Morfit, PGATOUR.COM
This one wasn't close, but it provided Woods' most memorable shot at Firestone.
On the final day, play continued past sunset because of a three-hour rain delay. No one wanted to stay an extra day for a finish that was merely a formality. It was pitch black by the time the final group reached the 18th hole. "If the tournament was tied, I guarantee it would have stopped," Woods said.
He rewarded those who stayed until the end by knocking an 8-iron stiff. Camera flashes and fans holding lighters illuminated the final hole.
"I could see the flag. I just couldn't see the shot," he said. It was a unique scene for a PGA TOUR event, though Woods said that playing in the dark reminded him of late-afternoon rounds with his father while growing up in Southern California.
This was another dominant performance in a season that was full of them. He won the year's first two majors by a combined 23 shots, then defeated Bob May in a dramatic playoff at the PGA Championship.
The WGC-Bridgestone Invitational was held the following week. Even though he was fighting the flu, Woods didn't slow down.
He flirted with 59 in the first two rounds and set a TOUR record by shooting 125.
The win made Woods the first player since Byron Nelson in 1945 to win at least eight times in consecutive seasons.
---
2. The Playoff That Wouldn't End (2001)
Final score: 268 (66-67-66-69)
Position after 54 holes: 2nd, two behind Jim Furyk
Victory margin: Won playoff
Runner-up: Furyk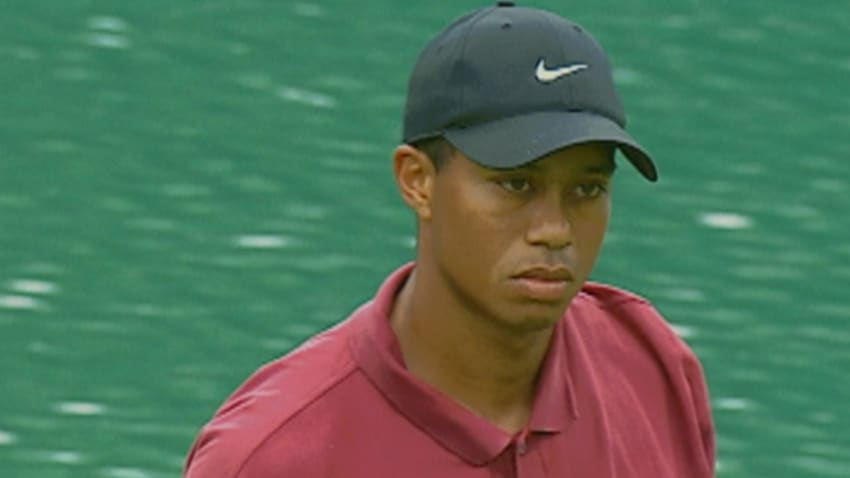 Tiger Woods wins 2001 WGC – NEC Invitational
An extra seven holes of sudden-death were needed to decide the winner of the 2001 WGC-Bridgestone Invitational. The playoff took two hours to complete.
"It was a war out there," said Woods, who was on the way to winning Player of the Year honors for the fourth time in five seasons. "Neither one of us gave an inch."
Woods shot a final-round 69 to catch Jim Furyk, but both players bogeyed the final hole to finish tied.
Furyk holed out from a bunker to extend the playoff, but also missed three birdie putts from inside 10 feet during sudden-death.
He couldn't help but rue his missed chances.
"I played well enough to win," Furyk said. "My putter kind of failed me. I kept getting real quick downhill, left-to-right putts to win the tournament."
Woods admitted he'd been on the ropes more than once.
"On every single one of them, Steve and I said, 'It's over,' because he's such a great putter, he's got to make one of those," Woods said. "I was very lucky he didn't make any of them."
---
3. Off the Clubhouse, Into the Winner's Circle (2006)

Final score: 270 (67-64-71-68)
Position after 54 holes: T2, 1 behind Stewart Cink
Victory margin: Won Playoff
Runner-up: Cink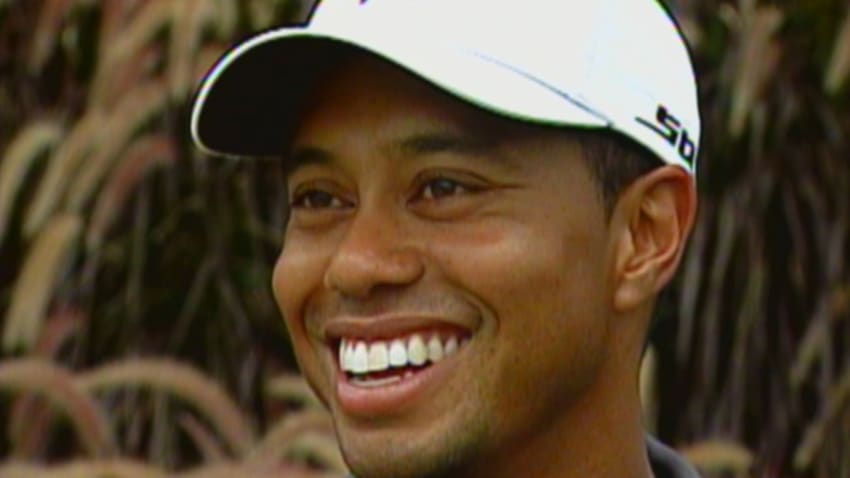 Highlights




Tiger Woods' approach lands on clubhouse roof at 2006 Bridgestone
This was one for the blooper reel and the highlight reel.
In the second round, Woods hit a 9-iron on the ninth hole and watched as his ball cleared the trees, caromed off the concrete and landed onto the clubhouse roof. A kitchen worker found it and, after a lengthy ruling, Woods got a drop and made bogey.
Firestone's dominant force had to win this one without his A game. Cink was his biggest challenger.
They had a two-shot swing on the 16th hole after Woods missed a 4-foot par putt. Then they were tied after Cink birdied the 18th hole. Both players ended regulation at 10-under 270.
The playoff nearly ended immediately after Cink's birdie chip barely missed. He missed his 18-foot birdie putt on the high side at the second extra hole and faced an 8-foot par putt to close out Woods on the third extra hole.
He missed that, too.
Woods finally saw his chance on the fourth playoff hole hole. He was staring down an 8-foot birdie putt to win his fourth consecutive tournament. As soon as they finished, both players, along with third-place Jim Furyk (68), would be headed for a charter to Ireland to start practicing for the Ryder Cup at the K Club.
"Just end this thing now," Woods told himself. He did.
His 52nd PGA TOUR victory tied him with Byron Nelson for fifth-most in history, and marked his seventh consecutive season with at least one WGC win.
---
4. On Top of the World (1999)
Final score: 270 (66-71-62-71)
Position after 54 holes: Leader by 5
Victory margin: 1 shot
Runner-up: Phil Mickelson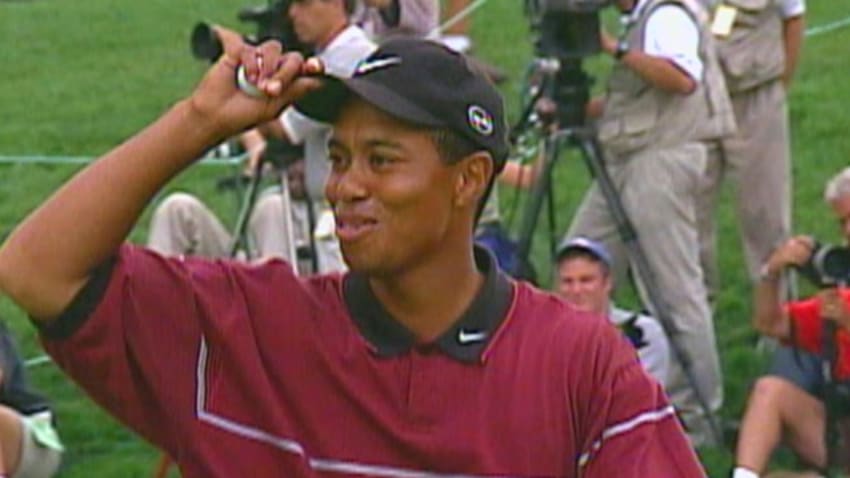 Tiger Woods wins 1999 WGC – NEC Invitational
The World Golf Championships began in 1999, and so did Woods' dominance of Firestone.
Woods finished in the top five in his first two trips to Akron for the World Series of Golf, but it wasn't until the tournament became a WGC that he hoisted a trophy.
The swing changes that Woods made the previous year were paying dividends in 1999. Woods had already won four times by the time he arrived at Firestone for the inaugural World Golf Championships-Bridgestone Invitational, including his second major. He'd held off a teen-aged, scissor-kicking Sergio Garcia two weeks earlier to win the 1999 PGA.
Woods used a third-round 62 to take a five-shot lead at Firestone. "You can have anyone sit here and say, 'I have a shot tomorrow,' but they are just kidding themselves," said Fred Couples, who shared second place with Nick Price.
The final round wasn't as easy as Couples predicted, though. It turned into a duel with Phil Mickelson, almost two decades before there was talk of a $10 million, made-for-TV match between the two stars.
Mickelson birdied six of the first 11 holes while Woods was 1 over par after back-to-back bogeys on 14 and 15.
Woods had to hole a crucial putt on the 17th hole, just as he had done at Medinah. He was clinging to a one-shot lead when he holed a 20-foot birdie putt from the fringe. After a flubbed chip on the final hole, he had to two-putt from 60 feet to finish one ahead of Mickelson.
"There's something about having to make one on 17. I stay focused," Woods said.
This victory was the start of a four-tournament winning streak to end the season. The greatest year of his career was right around the corner.
---
5. Flirting With 59 (2013)
Final score: 265 (66-61-68-70)
Position after 54 holes: Leader by 7
Victory margin: 7 shots
Runners-up: Keegan Bradley, Henrik Stenson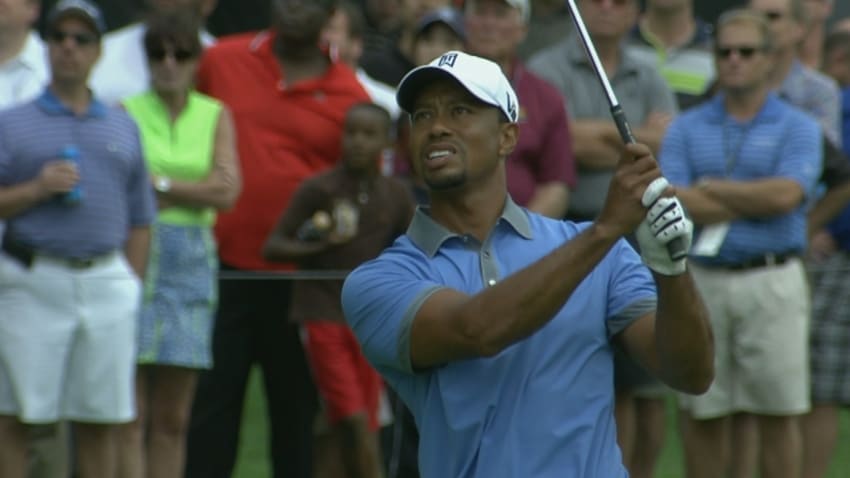 Highlights




Tiger shoots 61 in Round 2 of Bridgestone Invitational
Woods' most recent victory came at Firestone five years ago. It was a vintage performance.
He held a seven-shot lead at the halfway mark after flirting with 59 in the second round.
He played his first three holes in 4 under, then started the back nine with four consecutive birdies.
Woods was four under through his opening three holes and added another birdie at No. 7. After four straight birdies to open the back nine, he was 9 under par on the par-70 course.
He had to settle for five consecutive pars, though, to tie his course record.
"I felt I was in total control of my game," he said.
Woods shot 68-70 on the weekend to cruise to a seven-shot win. Little did we know that he'd return to Firestone five years later without another win on his remarkable resume.
---
6. A Four-Peat … of Sorts (2009)
Final score: 268 (68-70-65-65)
Position after 54 holes: 2nd, 3 behind Padraig Harrington
Victory margin: 4 shots
Runners-up: Harrington, Robert Allenby
Tiger Woods' victory reel: 2009 Bridgestone Invitational
Woods' four-peat at Firestone had to wait a year.
He missed the 2008 Bridgestone Invitational because of the knee surgery that followed shortly after his U.S. Open victory.
He was back to his winning ways when he returned to Firestone a year later, even if he didn't get off to a great start.
He was five shots back of Padraig Harrington after 36 holes. Woods' Saturday 65 moved him into second place, but he still trailed the Irishman by three.
Harrington said he didn't notice the roars and the charge. He didn't know who he'd play with Sunday until he putted out on the 18th green.
"Three-shot lead, is that enough? Probably not," Harrington joked.
Harrington was a formidable opponent. He won The Open Championship in 2007, then won the final two majors of 2008 while Woods was on the sidelines.
Woods got off to a strong start, though. He eagled the second hole en route to a front-nine 30 that gave him a two-shot lead.
Harrington led by one after Woods bogeyed the 13th and 14th holes. The battle turned on the par-5 16th, Firestone's famous "Monster."
Woods hit an 8-iron to a foot. Harrington hit his approach over the green. His next shot came out hot and went into the water fronting the green. He made an 8 to fall three behind with three holes remaining.
Game over.
It was Woods' 16th WGC title and 70th PGA TOUR win.
---
7. Sabbatini Smackdown (2007)
Final score: 272 (68-70-69-65)
Position after 54 holes: 2nd, 1 behind Rory Sabbatini
Victory margin: 8 shots
Runners-up: Sabbatini, Justin Rose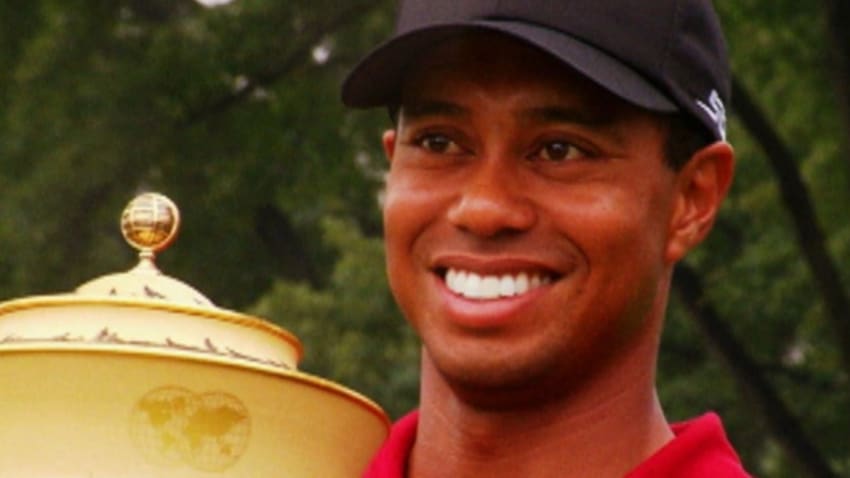 Tiger Woods wins 2007 WGC-Bridgestone Invitational
After winning the last two titles at Firestone in close battles, Woods claimed a third straight – and sixth overall – with an eight-shot demolition derby.
But it didn't look like his run would necessarily continue … until fate provided an enemy Tiger could pounce on.
Woods was four back after two rounds, but a third-round 69 moved him into second place. He trailed Rory Sabbatini by just one shot.
Earlier in the season, Woods overtook Sabbatini to win the Wells Fargo Championship. Woods beat him by five shots in the final round but Sabbatini declared that Woods was "more beatable than ever."
Sabbatini got a second chance on Sunday in Akron.
And Woods was ready. He came out on fire with four birdies in the opening six holes. A stress-free 65, compared to Sabbatini's 74, said plenty.
"Everyone knows how Rory is, and I just go out there and just let my clubs do the talking," Woods said afterward.
Woods won the PGA Championship the following week, then went T2-1-1 in the FedExCup Playoffs to claim the first FedExCup.
---
8. Woods beats DiMarco. Again. (2005)
Final score: 274 (66-70-67-71)
Position after 54 holes: Co-leader with Kenny Perry
Victory margin: 1 shot
Runner-up: Chris DiMarco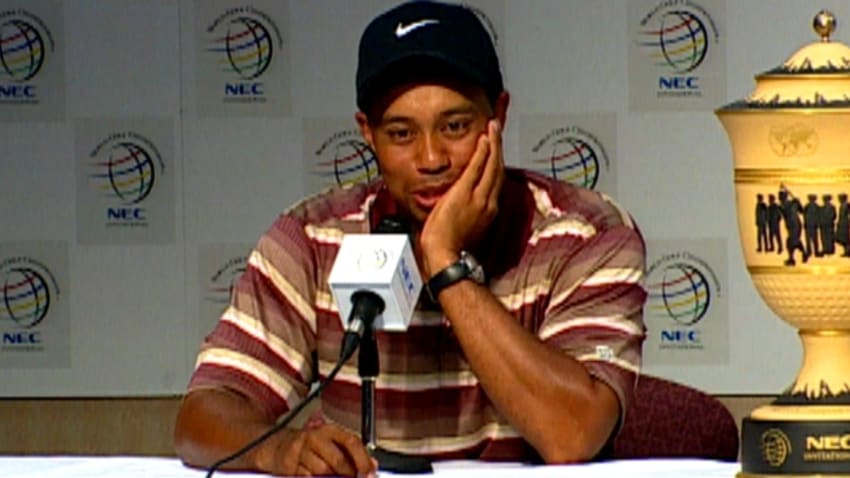 Tiger Woods wins 2005 WGC-NEC Invitational
It was a season that saw Woods' remarkable streak of made cuts end at 142 at the EDS Byron Nelson Championship. It was also a season that saw him summon some of his best golf to dispatch Chris DiMarco.
Just as he had done at the Masters earlier that season, and just as he would do at the 2006 Open Championship, Woods relegated DiMarco to second place by doing just enough to beat the fiery Floridian.
"I just could not make a putt," said Woods, who missed five times from inside 8 feet in the final round.
He trailed Kenny Perry at the turn, but as the final round wore on it became clear that his greatest challenge would come from DiMarco.
Playing four groups ahead of Woods, DiMarco watched his 20-foot birdie putt melt over the hole on 18. His final-round 68 briefly looked like it might be enough to beat Woods, though.
Woods made a long curler for birdie on 16, then saved par after an errant drive on 18 to preserve the victory.
"If you're hoping for him to make bogey," said a rueful DiMarco, "you didn't do what you needed to do."
It was Woods' 10th win in 20 WGC starts.
— Ben Everill and Sean Martin contributed