(BY TOM LEONARD, SAN DIEGO TRIBUNE) (http://www.sandiegouniontribune.com/sports/sd-sp-junior-golfer-escapes-riots-in-haiti-20180710-story.html)
On Tuesday afternoon, Caleb Stimmel teed off on the Torrey Pines South Course in the first round of the IMG Academy Junior World Championships.
There seemed no earthly explanation for why he was playing a game as he walked along the cliffs above the Pacific Ocean.
Thirty-six hours earlier, the 18-year-old Stimmel was riding in a truck at 4 a.m. on a darkened road in Haiti — 90 minutes of potentially dangerous passage ahead of him in the Ohio teen's attempt to get to the airport in riot-torn Port-au-Prince so he could make it to the biggest golf tournament of his life.
Stimmel had been on a weeklong mission with a group of youths from his church to serve the children of an orphanage. He was scheduled to arrive Saturday in San Diego, but rioting began Friday in Haiti after the government announced double-digit price increases on fuel.
There were reports of deaths of Haitian people and attacks on hotels, and the U.S. embassy issued "stay in place" advisories for U.S. personnel and citizens. (On Tuesday, the embassy requested additional U.S. Marines to bolster security.)
U.S. airlines cancelled flights until reopening Monday, giving Stimmel a glimmer of hope that he could get out.
Stimmel and another American, a female police officer from Ohio who was serving at the orphanage, secured new plane reservations and made the decision to try to reach the airport early Monday. The hope was the rioting would calm down in the middle of the night.
Tires burned on the side of the highway, Stimmel said, while large trucks and scrap metal served as blockades, erected by angry mobs who earlier in the day were demanding money to pass.
Stimmel's driver from the orphanage — whom he knew only as Johnny — somehow navigated all the obstacles, though when they got to where they could finally see the lights of the city, they came to a blockade of stacked steel barrels they thought might be impassable.
"I thought that was the end," Stimmel said, recalling the entire experience on the Torrey Pines driving range. "Then, out of nowhere, some guy comes out of the darkness and moved the trash cans out of the way."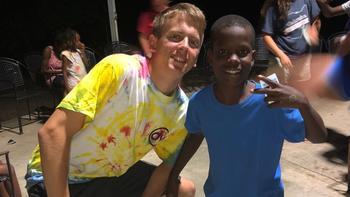 There were other portions of amazing good fortune, such as Stimmel getting through customs and security in less than a half hour after he landed at JFK Airport in New York, so that he could make his flight to San Diego.
The JetBlue flight ended up landing here one hour before it was scheduled, so Caleb and his dad, Jim, got in a quick tour of the first four holes of Torrey South before the sun set. That was his only view of the golf course before the competition.
"The whole thing … " Jim Stimmel said, shaking his head. "We had people praying for his safety and so that he could get here. I feel like there are a lot of God things in there."
Jim Stimmel, a high school math teacher, and Caleb's brother, Josh, arrived Saturday in San Diego, and the wait for news was excruciating, with little ability to communicate with Caleb while he was in Haiti. Caleb's mom, Sharon, kept tabs at home in their hometown of Hilliard, Ohio – a suburb of Columbus.
With tears in his eyes, Jim Stimmel said, "My first concern was his safety, but when I saw the course at Torrey Pines, I just started crying. I knew how cool it would be for him to be here. To think that he wasn't going to make it … "
The Stimmels said the remaining members of their missionary group — mostly teenagers — were able to leave Haiti on Tuesday morning. They did receive reports that the driver, Johnny, was forced from his truck at a blockade on the return trip from dropping off Caleb and had to walk back to the orphanage.
Caleb said he never feared for his safety, and described warm and friendly conditions at the American-run Destiny Village orphanage of 46 children in the coastal area of Pierre Payan. Two years ago, Stimmel served on a missionary trip to Costa Rica.
"I like going to other countries, seeing how people live," he said. "Costa Rica was fun, but I thought this was better. There were all the kids we were impactful with. We let them inspire us."
Stimmel packed a couple of old wedges and some golf balls for the trip, and hit shots into the ocean from the beach as the kids watched.
"They thought that was hilarious," he said. "Then they were taking clubs and hitting rocks with them. It was funny."
The trip to Haiti was planned and paid for before Stimmel qualified for this week's event in late May by shooting a 1-over-par 72 in the Ohio Junior World Qualifier.
A basketball player and golfer at his high school, Stimmel has competed mostly in central Ohio events, and Junior World was always a bucket-list tournament for him. He missed qualifying last year by two shots, and this was his last chance to play.
"It will be amazing playing this course," said Stimmel, who went on to shoot 6-over-par 78 in the first round. "So many historic things have happened here — the 2008 U.S. Open — and it being on the ocean."
Because of the Haiti trip, Stimmel hadn't picked up a golf club, other than on the Haiti beach, in 12 days. He was heading out to play a beast of a golf course.
He wasn't sure how he was going to perform, but added, "Hopefully it goes well. I usually pick up things pretty quickly."
Simply getting to compete was the reward.
"I honestly didn't think I was going to be here," Stimmel said.